Moderator
Lifetime Forum
Patron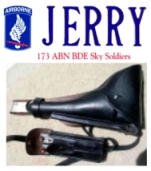 Join Date: Jun 2002
Location: Arizona/Colorado
Posts: 7,743
Thanks: 4,747
Thanked 3,053 Times in 1,413 Posts

Haenel Eagle L extruded Luger Police magazine 5822
---
Just came by this gorgeous Police Luger Eagle L mag 5822 marked with a 1 and no suffix. Has a beautiful extruded silver body with the Haenel arrow and Schmeisser Patent on the side. Check your Police pistols for 5822!
__________________
Jerry Burney
11491 S. Guadalupe Drive
Yuma AZ 85367-6182
l
ugerholsterrepair@earthlink.net
928 342-7583 (CO & AZ) Year Round
719 207-3331 (cell)

"For those who Fight For It, Life has a flavor the protected will never know."