Super Moderator
Eternal Lifer
LugerForum
Patron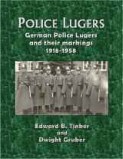 Join Date: Jun 2002
Location: North of Spokane, WA
Posts: 15,885
Thanks: 1,972
Thanked 4,465 Times in 2,063 Posts

---
Geo, lots of fakes out there.

Although I was sure that the police holster we looked at yesterday was real, but it was so 'new' looking (we had the opportunity to visit for a few hours yesterday and look at a fairly unusual Simson) that I had to just double check with you.
The holster was a police, 1939 and looked brand new..


Now, obvious fakes, that is just plain lack of knowledge.

..
__________________
Edward Tinker
************
Co-Author of Police Lugers - Co-Author of Simson Lugers
Author of Veteran Bring Backs Vol I, Vol II, Vol III and Vol IV